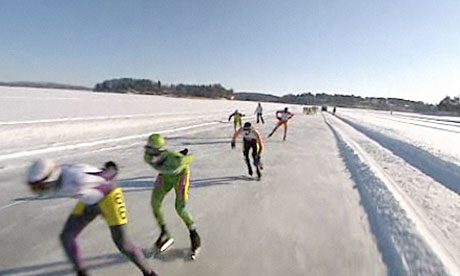 "It is 6.30am and there is a strange man molesting a large log in an east London park. A dog walker comes close before awkwardly changing direction. This strange man is me. And to be fair, it was entirely consensual.
What could bring a man to such depths?

Answer: the world's toughest ice race. I must somehow transform myself from average internet surfer to marathon ice skater, in three months, to race in the toughest ice race in the world: the Kuopio 200km ice marathon.

On 19 February, in as low as -30C, around 25 of the best endurance skaters in the world will line up. And me - a bloke who last skated at Gosport ice disco aged 14. Our mission is to skate non-stop for 200km in under 10 hours. A stupid idea? Definitely. A loophole allowed me to enter; a Finnish assumption that no one would attempt 200km if they didn't know what they were doing."
Read on...
Training for the world's toughest ice race - Guardian