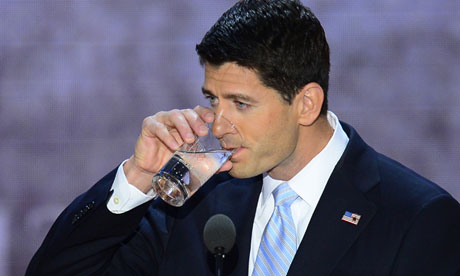 "We're not going to let our campaign be dictated by fact-checkers" - Neil Newhouse,
pollster for Mitt Romney
"
"In his barnstormer of a speech to the swooning crowd at the Republican national convention on Wednesday night, Paul Ryan laid a mound of misdeeds at President Obama's door. To sustained applause from the floor, the vice-presidential candidate accused Obama of raiding Medicare, lying to auto workers and turning his back on the poor. But the speech (
transcript here
) was not always at pains to adhere to the historical record. At times, we are disappointed to report, Ryan baldly lied.
"And the biggest, coldest power play of all in Obamacare came at the expense of the elderly … So they just took it all away from Medicare. Seven hundred and sixteen billion dollars, funneled out of Medicare by President Obama."
Barack Obama's budget plan calls for $716bn in cuts to Medicare spending over the next 10 years, but in reimbursements to insurers and hospitals, not in payments to beneficiaries, which would be preserved. Ryan knows this because he has written these same cuts in to successive drafts of his famed budget. Politifact has weighed in on Ryan's Medicare claim and found it to be "
mostly false
."
"A lot of guys I went to high school with worked at that GM plant. Right there at that plant, Obama said: 'I believe that if our government is there to support you … this plant will be here for another hundred years.' That's what he said in 2008. Well, as it turned out, that plant didn't last another year."
Ryan accurately quotes Obama, who visited the plant as a presidential candidate in February 2008. Four months later, GM announced the plant would drastically scale back production. The plant laid off most of its workforce in December 2008, before Obama took office. The "government support" Obama spoke of – his auto bailout plan, which took effect in early 2009 – did not arrive early enough to save the Janesville plant, but it is credited with saving the American auto industry. The full audacity of this attack cannot be appreciated without noting that Ryan's would-be boss, Mitt Romney, published an op-ed in the New York Times in November 2008
under the headline Let Detroit Go Bankrupt
."
etc. etc.
Paul Ryan's speech: a round-up of his most audacious untruths - Guardian
I am sure many Democrat politicians are no better, but this article lays the ridiculousness that is politics out beautifully. Luckily the voters are dumb. Are they? I don't really care any more what these US (or UK) politicians stand for, or say they stand for. The SOP seems to be say whatever you feel like and perceive that you are getting the electorate rallying to your "cause". Whatever you do, do not even think about talking straight, telling the truth, not twisting the facts, quoting your rival with accuracy. Are they so cynical that they believe this works. I guess it does? Do they recognise that it doesn't matter as once elected they appear pretty powerless to actually achieve anything anyway?